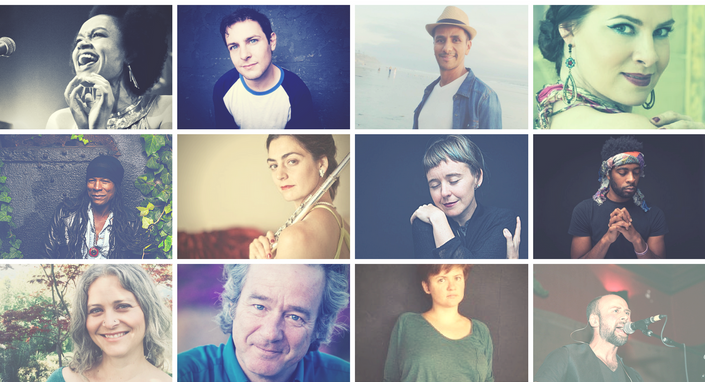 Interviews with Artists Who Are Making It Video Library
Overthrowing the stereotype of the starving artist . . . one interview at a time.
Sign up for this FREE video subscription and
you'll get access to new interviews with new artists every month and more!
You'll get:
Access to the full-length version of these interviews (not available anywhere else!)
Bonus Materials: Artists' Galleries and Extra Footage
Membership to the Performers & Creators Lab free content (tips, tools and short courses available here online)
Access to the entire video archive so you can watch old interviews any time you'd like!
Watch engaging and intimate conversations with sought after artists and some of the most interesting people on the planet!
How You'll Get Them:
Sign up now (it's totally free!) and we'll notify you every month via email when a new interview is posted.
Every month Holly will be interviewing a different exciting artist and you'll be the first to hear about it.
You'll hear about how they got to where they are, insight into their creative process, and sides to them not normally revealed in other interviews as Holly asks questions that unlock the core of who they are to reveal their most vulnerable humanity.

This is the ONLY place you will be able to find the full interviews so Scroll up or down to SIGN UP and JOIN The Performers & Creators Lab so you can begin watching immediately.
This Month's Featured Artist
RANELLA FERRER Miss Ranella Ferrer, whom America recognizes as Reality TV Star, from Season 1 Revenge Body by Khloe Kardashian & powerhouse singer in the Filipino-American Entertainment Industry since she was only 13 years old. Born and raised in the Philippines, Ranella's strong-will character and dedication led her to move to America and landed in Cerritos, California to pursue her career as a professional singer, hosting gigs & even Reality TV roles. Ranella's professional background includes Grammy produced songs, commercial pop singles, and multiple appearances in live performances, tour collaborations, and TV and Radio shows, making her one of the most-wanted Fil-Am vocalists in the America. Ranella recently sang the National Anthem for the Los Angeles Lakers in 2016 and has sung for former President of the Philippines Fidel Ramos and known as the Asian Queen of Soul in the R&B/Pop Culture opening up for Keysha Cole, Stevie Wonder, Tyrese, B2K, and NEYO amongst others. In addition, Celebrity Chronicles names Ranella the "Best Female Vocalist" after her song on the soundtrack for the Wayan's Bros movie, The Dance Flick working with Dwayne Wayans Jr. Ranella's pop style, fused with her love for R&B allows her to go back to her roots and vibe.
Your Host
HOLLY SHAW got her first agent when she was twelve years old and has spent a lifetime in film, T.V. and on professional stages all over the world as an actor, dancer, choreographer and director. Now she shares her passion as a Creativity Coach and a Certified Hypnotherapist and has helped hundreds of artists, from Emmy Award winning composers to world class choreographers, to overcome their performance anxiety, impostor syndrome, and creative blocks so that they can create original work and totally kill it onstage again and again. Her recently published book, The Creative Formula: Compose, Choreograph, and Capture Your Masterpiece has become an Amazon bestseller.
What's Inside
Singer & Reality T.V. Star, Ranella Ferrer
Available in days
days after you enroll
Actor and Entrepreneur, Blair Hickey
Available in days
days after you enroll
Rapper, Enon Gaines
Available in days
days after you enroll
A Letter from Holly Shaw
Show Host & Project Visionary
When I was 23, I had a job for two months as a television show host for the Edinburgh Arts Festival Revue in Scotland. As the T.V. host, I interviewed and introduced many of the different artists that were performing during this worldwide arts festival. This was a dream job. And one of my favorite things about this job was talking to the artists before we got in front of the camera; letting my curiosity lead and finding some interesting tidbit of information to share with the audience. I was fascinated with their sometimes long and winding journeys as artists on their way to success (be it in the form of fame, money, or simply better and better gigs and opportunities).
I've spent a lifetime on stages all over the world (got my first agent at age 12), on film and TV and at this point, I've coached hundreds of artists, some of them Emmy award winning and internationally renowned. Some of the artists I've supported are totally "making it" already and dealing with the challenges that come with new levels of visibility - and some of the artists I support are on their way to making it.
What fascinates me most about my work with artists are those deep conversations that unfold some of the most epic nuggets of wisdom, truth, and reveal the artist to themselves in a new way. And I thought,
What if I were to have these revealing and transforming conversations for all the world to see?
What if I could not only share the insights of those successful artists who are "making it," but also their deep, vulnerable humanity which we can all relate to?
I truly believe that we change the world we live in by focusing on those things we'd like to see more of. . .
So, by seeking out the successful artists, by unlocking their secrets and insights, by engaging with the thriving artists through conversation, I hope to add to the momentum of the creativity, the money, the opportunities, and the life balance that all of us creatives secretly crave more of . . .
Join us here at Interviews with Artists Who Are Making so we can ride out this adventure together!
BIG LOVE
For Artists Everywhere,
Holly
Watch the trailer of this month's featured artist!
Ranella Ferrer
R&B Singer & Reality T.V. Star